Our workshop
You find on this page a few partial views workshops and craft equipment (sewing machines, roller presses, bench shoemaking, metalworking bench with its specific aspiration etc. ..) used by Empire Uniforms to achieve your various commands.
How "Uniforms Empire" makes items for its customers!
Do not hesitate to consult our promotions.
Here are some examples:
Trimmings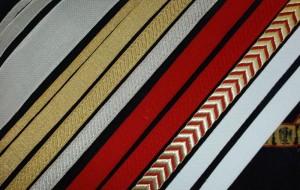 All our braids are braids.
Let me explain…none of our braids are made following the so-called system method, which is a much less expensive and faster method.
Unless specifically requested by the customer, we always produce our various braidson Jacquard loomsfollowing traditional methods and techniques. These are spun with either faux gold metal or fine silver metal. These are for the officers. But we also produce them incotton and/or wool in different shades for respective units and regiments. Why faux gold? It is simply due to the exorbitant prices of real gold metaland to avoid roaming costs to manufacture this metal.What is a yarn?A yarn is a core of viscosewhich is surrounded by a metal blade. This metal bladecan be of silver or 100% real Gold. This is very unusual nowadays, and it is more common to have a metal blade treated with a quantity and quality of gold.
Gold that is 2000 thousandths, 5000 thousandths, etc. is called FAUX GOLD.
When you speak of faux gold, shouldn't you say it is poor quality gold? No. The difference between the two is the replacement of 100% fine gold = (true gold) by plated gold = (faux gold).We apply the same material to make cord, square braid, braid.
We can, at the request of the client, make our braids and trimmings in synthetic plast yarn, gold plast or silver plast.
Embroidery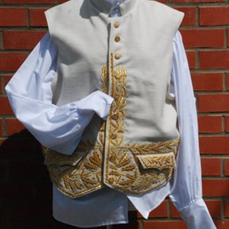 All our embroideries are handmade with the following materials: purl, cord, yarn and sequins either in faux gold or silver.
Our Epaulettes are assembled in our workshops. We can offer a wide range of possibilities for both the embroidery patterns and models.
Light cavalry saddles, heavy cavalry saddles, cast iron gun holster, hanger, bridles, bridons, cruppers, hunting necklaces, girth, stirrups etc.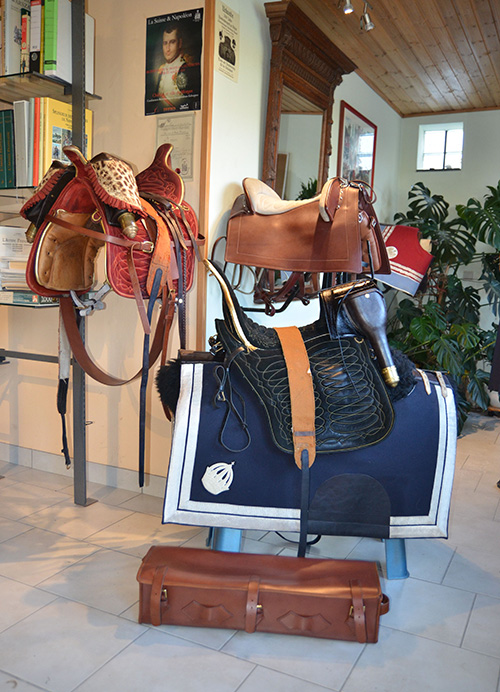 Our cavalry saddlesare reproduced identically following the details and styles from the era received from the museum. Of course our different models are manufactured from the best leather and skin,specially provided for this purpose and by adjusting our handmade pommelto the morphology of the horses and riders of our era. Our leathers are vegetable tannedto respectenvironmental standards. We offer our clients saddles, horse harnesses and made to measure round and rectangular hangers. We will make every effort to meet your wishes and instructions.
Light cavalry, line, guard and heavy cavalry boots.
Polish ankle boots
Our boots and ankle boots are produced, like rest of our products, in the minutest of detail. They are made of 100% leatherwith Goodyear stitching in the best calfskin offeringflexibility and robustness. For comfort and maintenance, our boots are lined with sheepskin on the calf and skin to allow the foot to perspire. .
Uniforms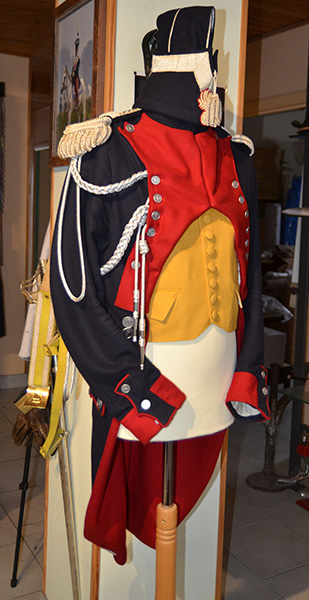 Our uniforms are tapered to fit, tailored andmadeto measure. The materials usedare twill woollen cloth, Egyptian satin cottonfor shirts and cravats, ecru cottonfor the lining and unbleached linenfor the culottes. Our woollensare made in Italy. They are KD treated at a quality of 550/600gm per m2. We currently offer 14 hues. As far as possible, we always strive to ensure that our fabricsand hues correspond, to the specific era.